How to Take Care of Your Car Tires
By Product Expert | Posted in Car Repair, Tips and Tricks on Thursday, March 12th, 2020 at 2:16 pm
Basic Tire Maintenance
Tires are the part of the car that constantly stay in contact with the road and support the weight of the vehicle and its occupants. Therefore, checking them on a regular basis is an important step to guarantee your overall safety. Tires also affect the vehicle's handling and braking, so it's essential to examine them to ensure an optimum performance and avoid a potential accident. Keep reading this blog to learn the basic tire maintenance you can do in your vehicle to keep your tires in the best possible shape.
---
Read more: How do I rotate the tires on my vehicle?
---
Tire rotation
Tires on the front and the rear of vehicles operate at different loads and perform different functions, resulting in uneven wear patterns. To make the most out of your tires and avoid premature wear, it is essential to rotate them every 3,000 to 6,000 miles. Performing tire rotation helps distribute erosion more equally between the four tires, leading to better gas mileage and maximized traction.
Tire Pressure Inspection
Keeping your tires properly inflated is one of the easiest ways to extend their life and ensure proper gas mileage. Tire pressure should be examined at ambient temperature at least once a month. To check the air pressure of your tires, simply remove the tire's valve cap, place the gauge over the valve stem and press firmly so that no air can escape. The tire gauge will indicate how much pressure the tire has. From there, simply adjust the air pressure to meet the recommended inflation rate provided on your vehicle owner's manual.
Wheel Alignment
Over time, your front wheels may need to be realigned. Common signs of misaligned wheels include worn and uneven edges, hard-to-turn or loose steering wheel and difficult vehicle handling. Wheel alignment is the process of measuring the wheels' angle to determine if they meet the manufacturer's recommendations. You know your wheels are properly aligned when the vehicle is able to drive in a straight line without drifting or pulling to either side. Specialists recommend having the wheel alignment checked at least once a year or every time new tires are installed.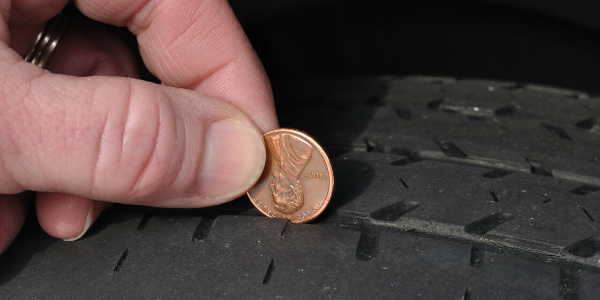 Tire Tread Inspection
A proper tire tread has a direct effect on the stopping distance and traction of the vehicle. You can measure the treat of the tires by yourself using the traditional penny test. To perform the inspection, simply place a penny into a tread groove with the top of Lincoln's head facing down. If the top of his head is not visible, your tires have at least 4/32" of tread depth and are safe for continued use. If you can see Lincoln's head completely, it's time for new tires.
---
Read more: How to Fix a Car's Flat Tire
---
Some tire maintenance tasks can be done without the help of an expert, while others will require a visit to the local service center or auto shop. If you are interested in learning more tips for car maintenance, check out our Big Shoe Auto Sales blog page.
One Response to "How to Take Care of Your Car Tires"